---
By
deans ~ September 29th, 2009.
Filed under:
Announcements
.
With the approval of RingDanceLite v1.0, the "crass" logo is back in the app store. The good news, though, is that the app is free. The better news is that the app sounds just like the paid version of RingDance. You won't be able to tell the difference, once your screen times out.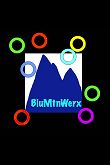 RingDanceLite provides a soothing audiovisual encounter with your iPhone™ or iPod touch™. The colored rings dance randomly about your screen. When they touch, they exchange colors and make a gentle sound. The calming melodies produced by the dancing rings create a relaxing environment that enables you to either focus your thoughts, or completely surrender to the otherworldly music.
The music produced by the dancing rings may be almost hypnotic, in spite of the distraction presented by the crass commercial imagery. We hope that the truly evolved will be able to look beyond the logo and use the app as a tool for meditation and concentration. Of course, we'd be just pleased as punch if these folks went ahead and bought the paid version of the app. That way, they could avoid all exposure to the logo. To be honest, though, I created the logo, and I'm not really sure why they're so offended by it. I guess that therein lies the difference between the engineer and the artist…


---
Technorati Tags: iPhone, iPod Touch, Apple, mobile, TiltBall, iPuck, iPunt, RingDance, RingDanceLite