---
By
deans ~ September 25th, 2009.
Filed under:
Announcements
.
As I posted earlier, a few

particularly aesthetically sensitive members of the RingDance user community took umbrage at the inclusion of the RingDance logo in the main view of the app. I try to avoid being called "crass" whenever possible, so we've removed the logo from the 1.1 version of RingDance. In its place, you'll find the app's name rendered in the Zapfino font.
RingDance still provides a soothing audiovisual encounter with your iPhone™ or iPod touch™. The colored rings dance randomly about your screen. When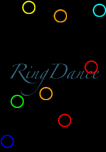 they touch, they exchange colors and make a gentle sound. The calming melodies produced by the dancing rings create a relaxing environment that enables you to either focus your thoughts, or completely surrender to the otherworldly music.
The music produced by the dancing rings can now be almost hypnotic, without the distraction presented by the crass

commercial blasphemy. We regularly use it as a tool for meditation and concentration, and now those that have evolved beyond the marketing plane can, as well.
We hope that you'll continue to enjoy it.
---
Technorati Tags: iPhone, iPod Touch, Apple, mobile, TiltBall, iPuck, iPunt, RingDance