---
By
deans ~ August 21st, 2009.
Filed under:
App Marketing
.
From where I sit, Scoreloop is an outstanding way to add an extremely compelling new dimension to your game. According to their site:
"Scoreloop is a social gaming platform for mobile devices. It allows gamers to challenge other players, view global high score lists, organize buddy lists, and keep track of their achievements. It can be added to any game, enabling social features."
Unfortunately, this bit looks as though it might have been written by engineers, rather than juiced up marketing types. While everything they say is true, they really don't do themselves justice. Scoreloop completely transforms an interesting game into a challenging social experience. It creates entirely new levels of intensity, competition and pressure in the game. I'm absolutely engaged by knowing that my scores will be posted, or that I'm answering a challenge from another player. I literally sweat over each missed shot and failed defense — in a game that I wrote and have tested thousands of times.

With Scoreloop, a straightforward game, like iPuck, becomes an intensely interesting competitive challenge. I don't just want to play, I want to win! I want to log the high score. I want to take on every challenger.
Beyond making a game much more compelling, Scoreloop turns out to be a significant marketing channel for us. The game's top scores, players, challenges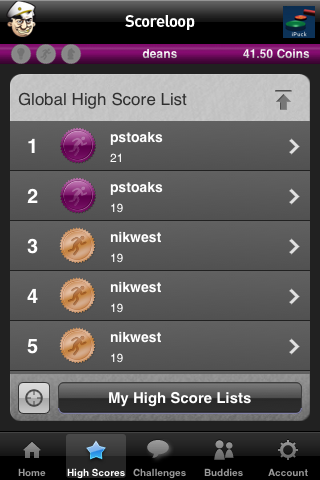 and activities are shown on Scoreloop's website, giving us another mechanism to reach potential players. Further, challenges are issued with an invitation to download the game. Finally, Scoreloop's marketing folks (many thanks to Raphael Weiner!!!) provide additional outreach through announcements on their social networks. All of these have helped us continue good sales of iPuck well beyond the traditional post-update bump.
Finally, and of equal importance, Scoreloop provides us with analytic information regarding how our game is interacting with their network. Using this data, we are able to develop a picture of the type of player, the number of players, the number of games being played and the kinds of scores being achieved. For me, this is particularly useful in thinking about how to design new games for even broader appeal.
Scoreloop was extremely easy to integrate into iPuck. The coding to make iPuck "score" friendly far outweighed the integration work (After reviewing that analytics, I've realized that I should have taken a different approach to determining the final score in iPuck — this will be fixed in a future version and we won't make the same mistake in future apps). Dominik Westner, and his team, have done a wonderful job of preparing a straightforward interface to the Scoreloop SDK, and it's accompanied by good documentation. The nicest thing, though, is their support. They answered all of our questions very quickly. They even provided immediate real-time help to repair some mistakes that I made when I was setting up our first game account. I certainly appreciated their location in Munich when I needed help at 2:00 AM PDT!
Working with Scoreloop is an extremely positive experience. We are currently developing several new games that will all be Scoreloop enabled, and we're going to add Scoreloop to another of our current games in a "soon to be available" update. If all goes according to plan, we will have a number of Scoreloop enabled games out within the next few months.
I'm not the only one that really believes in what these folks are doing. Scoreloop recently raised US$2.8M in their second round of funding. Among the coverage generated by their announcement was this interesting interview with the Scoreloop CEO.
The people at Scoreloop are really providing a great service for iPhone game developers. I've learned a lot from working with them, and I fully expect that our future games will be much more compelling as a result of our collaboration with Scoreloop. If you're a game developer, you should give Scoreloop a serious look.
---
Technorati Tags:
iPhone
,
iPod Touch
,
Apple
,
Scoreloop
,
mobile