---
By
deans ~ July 24th, 2009.
Filed under:
Announcements
.
We're very excited about the new targets and levels in iPunt v1.1. This release features both Skybox and Spacebox virtual shooting galleries, along with all new targets that include hot-air balloons,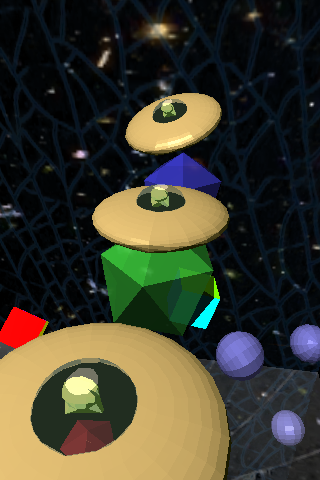 attack helicopters, fighter jets, rocket ships, shuttles and alien saucers. The graphics are more sophisticated and the gameplay is even more challenging.
Paul put together an excellent video that highlights the new features and demonstrates how to play the game.
Key enhancements in iPunt v1.1 include:
More exciting, new targets. iPunt now presents flights of hot air balloons, attack helicopters, fighter jets, rockets, shuttles and alien saucers. The hardworking robots from v1.0 are taking a much-deserved holiday.
Great sounds. iPunt now features much improved sound effects, including spatial audio, that are best appreciated with good quality headphones or earbuds.
Brand new spacebox. In addition to the familiar Earth's atmosphere skybox, iPunt now presents a more challenging spacebox set somewhere in the universe. As expected in deep space, gravity is not a significant factor in the spacebox. You'll have to direct your shooters by tapping carefully to send them in the right direction.
Targets fly in. All targets now fly in to their pedestals. With the exception of the balloons (what's the sport of hitting a hot air balloon in flight?), shooters can knock out targets during the fly-in.
The game is now timed. Your objective is to clear all three levels, of three flights each, in both virtual boxes, as quickly as possible. Your total elapsed time will be shown when you've cleared the final flight of the final level of the spacebox.
Start a new game. Once you've cleared both boxes, you'll get your time and also have the option to start a new game.
Significant performance improvements. Game play is now extremely smooth throughout the entire game.

iPunt v1.1 is now available on the App Store (link will take you right to iTunes). v1.1 of iPunt has improved graphics, a better story, is much more exciting, and presents a significantly greater challenge. You really have to play this app!



——–
Technorati Tags: iPhone, iPod Touch, Apple, mobile, iPuck, iPunt, RingDance