---
By
deans ~ May 27th, 2009.
Filed under:
Announcements
.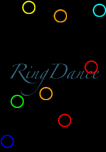 Our newest app, RingDance, provides a soothing audiovisual encounter with your iPhone™ or iPod touch™. The colored rings dance randomly about your screen. When they touch, they exchange colors and make a gentle sound. The calming melodies produced by the dancing rings create a relaxing environment that enables you to either focus your thoughts, or completely surrender to the otherworldly music.
The music produced by the dancing rings can be almost hypnotic. We regularly use it as aid to meditation and concentration. We hope that you'll really enjoy this app. Please let us know how you're using it.
RingDance is currently available on the App Store.
Technorati Tags: iPhone, iPod Touch, Apple, mobile, iPuck, iPunt, RingDance