---
By
deans ~ May 4th, 2009.
Filed under:
Announcements
.
We're just thrilled as can be that our first app has passed through the portal and made its way to availability on the App store (link will take you right to iTunes).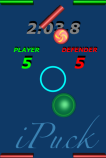 iPuck is a casual arcade game that we enjoy playing, and hope that you will, too.
It's been a lot of hard work, but it's worth the effort to be able to share something with the rest of the community. Stay tuned, we've got many more to come. We'll also try to be better bloggers now that we have our first few apps submitted to the store.
Technorati Tags: iPhone, iPod Touch, Apple, mobile, iPuck, iPunt