---
By
deans ~ May 4th, 2009.
Filed under:
Announcements
.
I really like this game! iPunt is both visually stunning and tremendously fun to play.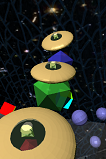 We're extremely proud of this app and are quite gratified to have it available on the App store (link will take you right to iTunes). iPunt is a truly unique experience that defies simple categorization. It's not merely a game and it goes way beyond normal entertainment. You just have to give it a try!
This app really puts the graphics capabilities of the device to good use to create a completely engaging virtual space. Be sure to pan around the environment to view the gamespace from all perspectives. Everyone will enjoy this app, and we've got more in the pipeline.
Technorati Tags: iPhone, iPod Touch, Apple, mobile, iPuck, iPunt