---
By
deans ~ May 27th, 2009.
Filed under:
Announcements
.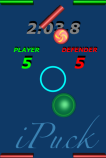 We made some minor changes to iPuck, mostly to make the interface a little more pleasant and consistent with our newer apps. The update has been approved and it's now available on the App Store (link will take you right to iTunes). iPuck is a casual arcade game that we enjoy playing, and hope that you will, too.
iPuck is easy to play, but it does require a bit of skill and manual dexterity to master the game. Give it a try, we think that you'll like it.
Technorati Tags: iPhone, iPod Touch, Apple, mobile, iPuck, iPunt